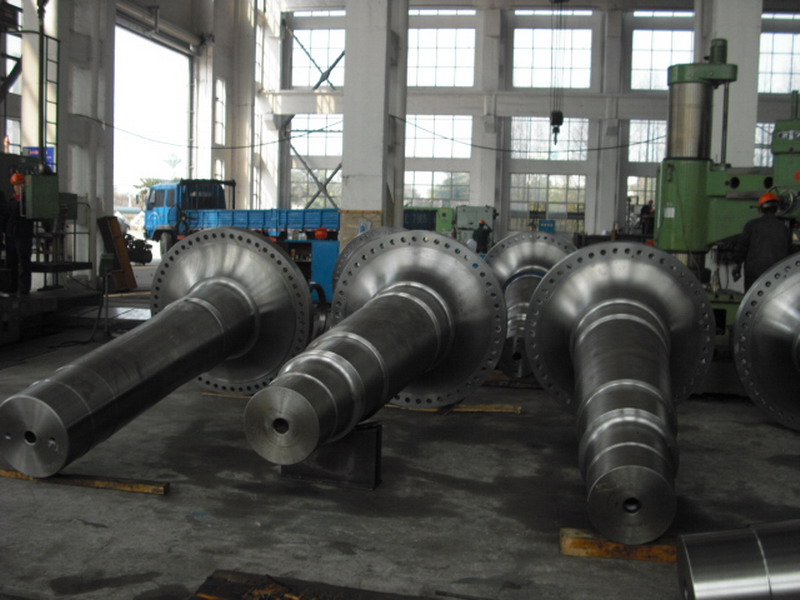 carbon steel (f.e. S355J2G3)
EN 10025
quenched steel (f.e. 42CrMo4, C45)
EN 10083
max. weight and dimensions
< 25.000 kg
up to Ø 2.500 mm
up to 12.000 mm long
During the process of open die forging the forging is shaped by a press between hammer and anvil.
The material can flow into the areas not enclosed by the tooling equipment.
By the use of open die forging mainly huge workpieces are produced.
The pre-heating as well as the temperature-controlled cooling of the huge forgings is arranged in bogie hearth furnaces.
Besides the above mentioned unalloyed steels and low alloyed steels to be heat treated, we offer forgings up to approximately 25 tons in different steels, amongst others in high alloyed stainless steels as well as rust and acid resistant (e.g. 1.4408…) or heat resistant (e.g. 1.4725).
Checkings
dimensional
chemical analysis
mechanical properties (Rm, Re, A, HB, KV ...)
nondestructable testings (US-, X-ray-, MP_, penetration test)
Metallographie
Approvals
inspection certificates acc. to EN 10204 3.1 or 2.2
Certifications
ISO 9001:2000 oder TS 16949
DNV, LRS, GL
AD 2000 W0
Deutsche Bahn
Heat treatment
normalisizing
quenching and tempering
stress relief annealing
Surface treatment
priming or painting (KTL also)
coating
galvanizing