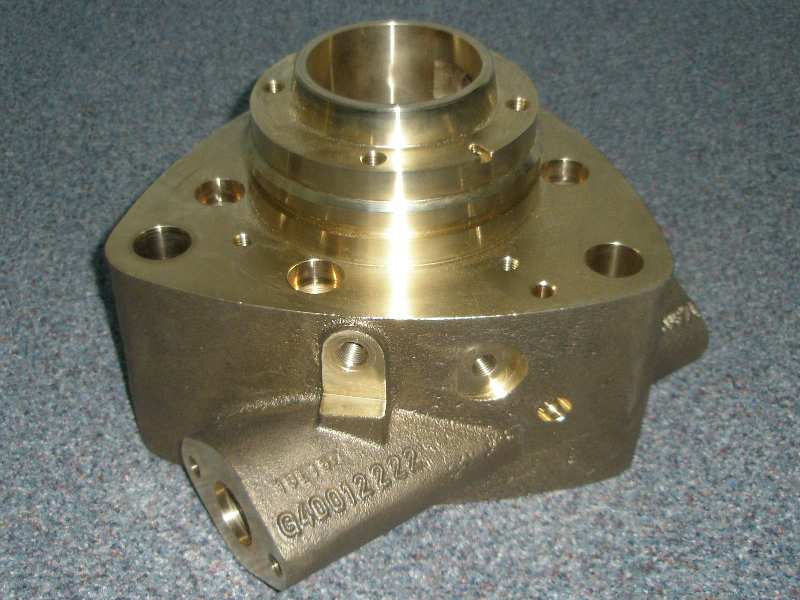 Sand casting
automatic moulded
hand moulded
0,3 - 80 kg
up to 300 kg
Copper alloys are known as high quality casting materials. The material costs of copper casting materials are, however, comparatively high. They are, therefore, only used when properties are required which are not fullfilled by lower-cost materials. In most cases these are properties such as the outstanding electric and heat conduction (q.v. item "Schleifstück" under heading "machine moulded castings"), the excellent corrosion resistance, good surface slide, or the particular decorative properties which are especially demanded in art casting (q.v. item "Gitterelemet" under heading "hand moulded castings").
The casting mapped at the top on the right side is the bottom part of an injection pump purposely developed for highly aggressive biomass fuel pyrolysed out of vegetable waste.
An aluminium-multicomponent-bronze is used, providing not only acid resistance but also the requested mechanical properties. The item was accomplished in sand casting (hand moulded, weight: 80 kg).
Checkings
dimensional
chemical analysis
mechanical properties (Rm, Re, A, HB, KV ...)
nondestructable testings (US-, X-ray-, MP_, penetration test)
Metallographie
Approvals
inspection certificates acc. to EN 10204 3.1 or 2.2
Certifications
ISO 9001:2000 oder TS 16949
DNV, LRS, GL
AD 2000 W0
Deutsche Bahn